Why should you monitor your wireless network?
Wireless devices are common, even more so in any enterprise network. This is because they're easy to connect to and avoid hardware such as wires and ports. However, every Wi-Fi device and wireless access point has to be thoroughly monitored to ensure continuous availability and diagnose performance issues.
Wireless monitoring tools are critical to:
Monitor wireless strength and the total number of connections.
Ensure that all Wi-Fi devices in a network are available and are performing optimally since most of the workforce prefers wireless devices.
Troubleshoot network performance issues by identifying the problematic device and interface.
Identify and eliminate rogue access points that lead to unauthorized access.
Comprehensive Wi-Fi monitoring and wireless network management
Simplify discovery and monitoring
Automatically discover the wireless devices in your network and add them for monitoring. Use the predefined default templates or customize them to simplify wireless network monitoring.
Monitor custom metrics for your Wi-Fi devices
Add wireless devices from any vendor and monitor any attribute using custom SNMP monitoring by just specifying the sysOID.
Obtain deep performance visibility with reports
Obtain deep visibility into your device's performance with Top N reports for interface-level attributes and custom reports for performance counters. Use the health dashboard to view the top performing devices and interfaces.
Receive timely alert notifications
Achieve real-time Wi-Fi network monitoring and act quickly with timely notifications. Get email, SMS, voice, instant messenger, RSS, and push notifications about downtime, allowing you to promptly address any issues.
Wireless monitoring from the cloud using critical SNMP counters
The following metrics can be tracked to monitor the wireless network traffic of access points discovered on your network:
Device status: The status of the device's connection to the cloud controller.
Device client count: The number of clients currently associated with the device.
Device mesh status: Shows whether the device is currently acting as a gateway or a repeater.
CPU utilization: The CPU utilization based on the host resource management information base (MIB).
Memory utilization: The device memory utilization.
Cisco WLC CPU utilization: The current CPU load of the WLC device in percentage.
Cisco WLC memory utilization: The current memory utilization of the WLC device.
Cisco WLC number of mobile stations: The number of mobile stations currently associated with the WLAN.
Cisco WLC temperature: The current internal temperature of the unit in Celsius.
Monitor network traffic for different wireless devices
Meraki Wireless Controller
Cisco Aironet 1130AG
Cisco Aironet 1242AG
Cisco Aironet 350 Series AP
Netgear Access Point
3COM AirConnect Access Point
Cisco 350 Series Access Point
Cisco C1200 Series Access Point
MiKroTik RouterOS
Cisco AirCt2504K9
Cisco 5508 WLC
HP Access Point
Aruba AP 61
Cisco WiSM Wireless LAN Controller
Aruba AP 65
Meraki Access Point
ZyXEL GS2210
Cisco AIRAP1142
DLink DWL 3200
Cisco AP541N
And much more
View all Wi-Fi traffic and bandwidth metrics from a single dashboard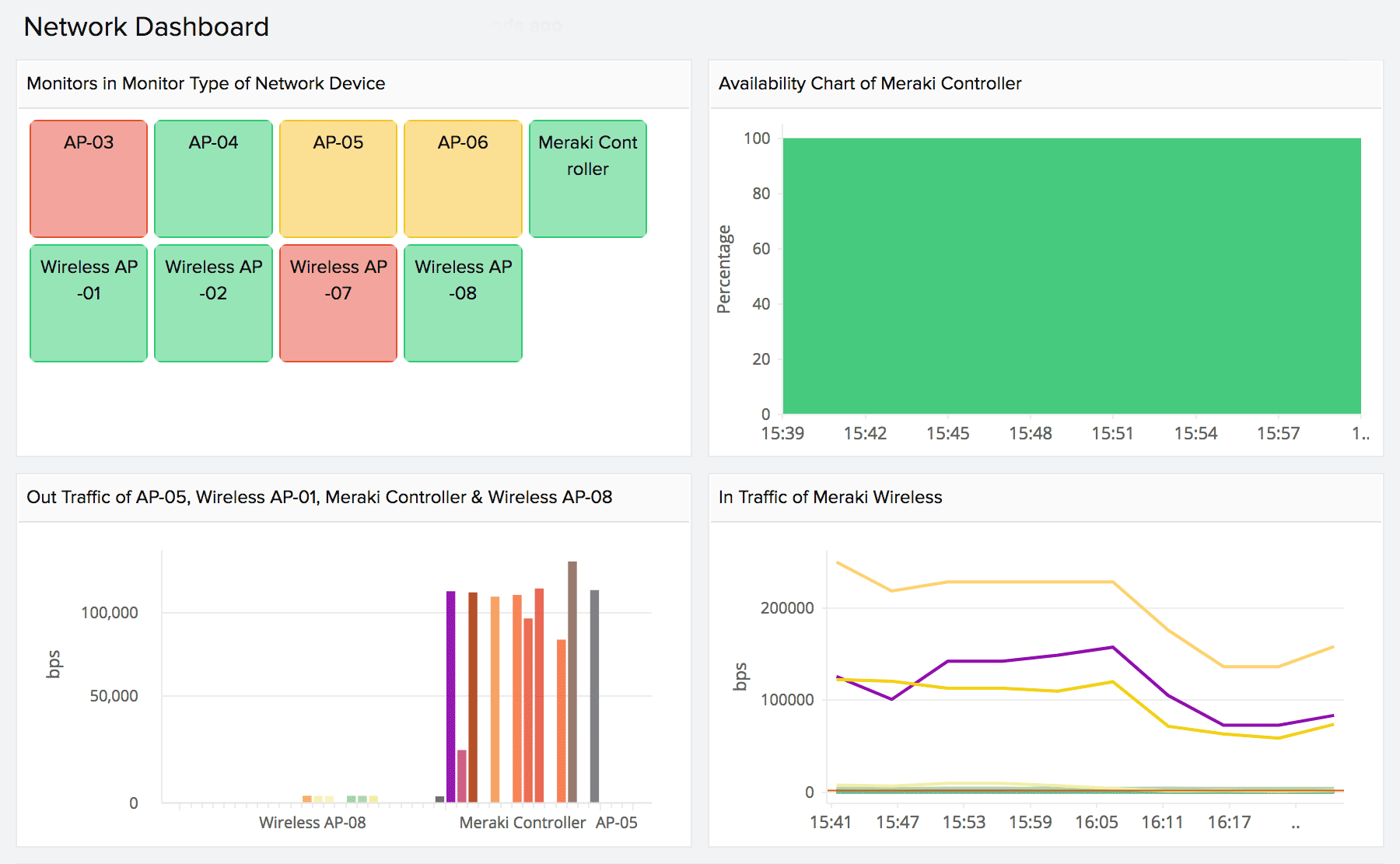 Get more than just performance data
Scalability
Scales to monitor thousands of network devices
Network Discovery
Add multiple devices at once using an IP range
Alerts and Reports
Get timely downtime alerts, and view reports with graphs
High Availability
Ensure high network availability by optimizing bandwidth allocation
Wireless Monitoring FAQs
What is wireless monitoring?
Wireless monitoring is the process of discovering, monitoring, and analyzing the performance of wireless devices in a network. Tracking basic performance metrics like CPU utilization, memory utilization, response time, bandwidth utilization, and packet loss along wtih other wireless-device-specific metrics like client count, mesh status, and temperature form the basis for wireless monitoring. It also involves tracking the availability, health, and performance of the interfaces.
What is the importance of Wi-Fi monitoring?
Complexities like hardware requirements and increased costs have led enterprises to prefer wireless networks over wired networks and Wi-Fi monitoring is critical as more devices rely on wireless networks. Network admins can manage their networks effectively only if the wireless devices are continuously monitored. Since any network downtime can affect most of the workforce, it's important to monitor Wi-Fi devices and wireless networks.
How can I monitor my Wi-Fi traffic?
You can monitor your Wi-Fi traffic by using a Wi-Fi monitoring tool that provides data on Wi-Fi traffic, bandwidth utilization, response time, packet loss, errors, and discards. You can also use performance counters and tabular performance counters to monitor critical performance metrics.
Why choose Site24x7 for Wi-Fi monitoring?
Site24x7 provides Wi-Fi and wireless monitoring as a part of its network monitoring. With support for over 450 vendors and 10,000 device templates, Site24x7 monitors different network devices using performance counters. You can also monitor custom metrics of your choice using custom SNMP monitoring. Site24x7 provides topology maps, Layer2 maps, out-of-the-box dashboards, and reports to stay on top of the devices in your wireless network. You also have the flexibility to configure thresholds and receive alerts via the IT service management tools of your choice.
How does the Site24x7 wireless monitoring tool work?
Once you install the Site24x7 On-Premise Poller in your network, it automatically discovers the devices within a provided IP range in your network. You can add the desired wireless devices for monitoring and start collecting performance data using SNMP. The performance data is then sent to the Site24x7 web client where you can view your network performance in the form of charts, dashboards, and reports.